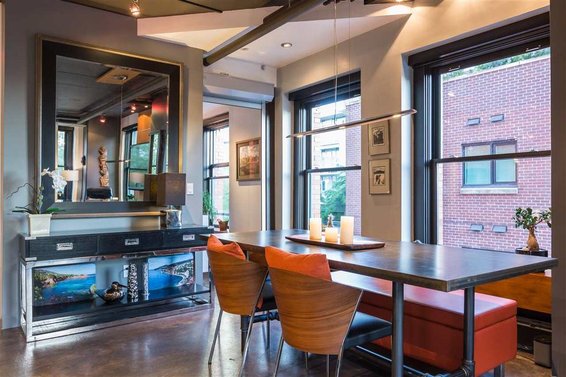 Spotlight: 5 New North Shore Apartment Listings
(Main Photo: 203-88 Lonsdale Avenue - see below)
This past week looked almost identical to the last, with 36 new apartment listings across the North Shore (32 NV/4 WV), increasing total inventory by a hair to 168 (120 NV/48 WV). The market remains frothy, although we did see slower traffic last week in part to the long weekend and long overdue sunny weather. We're now heading into the meat of the Spring real estate season, so it will be interesting to see how the market moves going forward. At 168 units, inventory still remains quite limited, and with prices reaching a historical apex it will be interesting to see if the market takes another leg up or if we've reached a ceiling for the time being and market values begin to flatten out. With the more attractively priced units being bid up, there are certainly some mid-level units that are being overlooked. If you're considering a move or purchase, staying informed and up to date is key right now - let us help you by reaching out to us below:
604.983.2518 | info@rossettiteam.com
Check out our pick of 5 new North Shore apartments below.
---

The First Time Home Buyer
Looking to get into this hot market, but wanting to be in the trendy Lower Lonsdale area? This 1-bed/1-bath top floor unit in Lower Lonsdales 2013 constructed Versatile building is a gem. Piece of mind with the remaining 2-5-10 year warranty, and featuring radiant in-floor heating, in-suite laundry, and a balcony for BBQ'n with westerly views. Rentals allowed, pets allowed. Expect this unit to be well received by the market.
506-111 East 3rd Street, Lower Lonsdale, North Vancouver
1 Bed / 1 Bath, 547 sq/ft / Listed at $449,000 // Learn more here >>
---
The Young Family
Need a little more space? This 2-bed/2-bath at Lynn Valley's Dakota gives you that extra bit of space without burning a hole in your pockets! This bright corner unit has in-suite laundry, two outdoor spaces, and two (read em, two) parking stalls. Located in the heart of Lynn Valley, steps to shopping, dining and trails!
306-1111 East 27th Street, Lynn Valley, North Vancouver
2 Bed / 2 Bath, 805 sq/ft / Listed at $559,000 // Learn more here >>
---
The Downsizer
Looking to downsize from a house to an apartment and wanting to keep your beloved furniture and larger pieces? This 2-bed/2-bath home at Parkgate should fit the bill. Over 1,400 sq/ft, the grand living spaces provide lots of room to bring everything from home - featuring a wrap around balcony, a bright clean kitchen, natural gas fireplace and two parking stalls. Close to Parkgate Shopping Centre, and more importantly, a short drive to both Northlands and Seymour golf courses.
203-1283 Parkgate Avenue, Northlands, North Vancouver
2 Bed / 2 Bath, 1,476 sq/ft / Listed at $928,800 // Learn more here >>
---
That Outdoor Space Though
This 2-storey penthouse unit in Central Lonsdale's Monticello is truly a funky one, providing a loft like feeling with a spectacular outdoor space great for entertaining. The rooftop patio is southwest facing with panoramic views of the city and Georgia Straight. Built in 2005, featuring stainless steel appliances, a second main floor powder room and natural gas fireplace. Pet friendly - this is a neat one.
302-152 East 12th Street, Central Lonsdale, North Vancouver
1 Bed / 1 Bath, 754 sq/ft / Listed at $650,000 // Learn more here >>
---
The Cream
Well I typically go with the higher priced units here, it's hard to pass up a home in the infamous Aberdeen Block in Lower Lonsdale. The heritage building houses a handful of one-bedroom lofts that usually fetch a high pricetag - despite having no outdoor space. This unit is 1,079 sq/ft, and features spacious overheight ceilings, concrete floors, stainless appliances and a spa-like master bath.
203-88 Lonsdale Avenue, Lower Lonsdale, North Vancouver
1 Bed / 1 Bath, 1,079 sq/ft / Listed at $989,000 // Learn more here >>
---
Listing Offices: 1. Keller Williams Elite Realty / 2. Macdonald Realty / 3. Sutton Group West Coast Realty / 4. Royal LePage Sussex / 5. Sotheby's International
---
Interested in any of the apartments above, or needing help in your home search in North or West Vancouver? Contact us via the form below and we'd love to help!
Want to follow along with our Spotlight on the Market posts for the best of the North Vancouver MLS and West Vancouver MLS Listings? Subscribe to our newsletter.
---
Thinking about making a move?