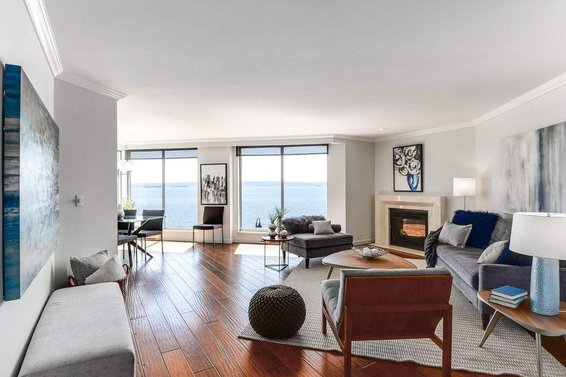 Spotlight: 5 New North Shore Apartment Listings
Inventory has crept lower to 160 units this week after sales outpaced new listing (NV 112/WV 48). Total new listings to market since Monday included 30 listings in North Vancouver and 4 in West Vancouver.
Looking at May numbers for North Vancouver, statistics validate the limited supply and frothy market. While total sales transactions were in line with last year (down only 6.3%), inventory was down a whopping 35.5% year-over-year. With a turnover rate (sales:active listings) of 1.14, meaning there were more sales than listings brough to market in the month of May, median and average sale prices were up an astonishing 38.9% and 32.1% respectively year over year. I buyers remain in the market and current demand levels continue, expect a squeeze into the summer market as inventory typically continues to lower into the summer months.
If you're considering a move or purchase, staying informed and up to date is key right now - let us help you by reaching out to us below:
604.983.2518 | info@rossettiteam.com
Check out our pick of 5 new North Shore apartments below.
---

The First Time Home Buyer
Located in Lower Lonsdale, this 1-bad 1-bath unit is located on West 4th Street in the 1980 built Britannia Place. The updated, south facing corner unit is bright and clean, and features hardwood floors and a large balcony for entertaining. A bonus den space and one parking stall, although you're only steps from Lower Lonsdales transit hub as well as a half block from the 3rd Street transit corridor with bus service across the North Shore. Rental and pet restrictions.
111-251 West 4th Street, Lower Lonsdale, North Vancouver
1 Bed / 1 Bath, 657 sq/ft / Listed at $399,900 // Learn more here >>
---
The Young Family
Another home located in Lower Lonsdale, this 2-bed/2-bath unit is located in the concreted mid-rise Grosvenor Place. The unit has been tastefully updated with new flooring, crown moulding, and a kitchen featuring stainless steel appliances and granite counter tops. Almost 950 sq/ft with a large wrap around balcony on the northwest side of the building.
603-540 Lonsdale Avenue, Lower Lonsdale, North Vancouver
2 Bed / 2 Bath, 945 sq/ft / Listed at $618,000 // Learn more here >>
---
The Downsizer
The RavenWoods area close to Deep Cove is truly an adults playground, with close access to Deep Cove, Cates Park, Seymour Mountain and two of Vancouver's most picturesque golf courses. This unit in Deerfield by the Sea is a sprawling 1,021 sq/ft, and as these homes are on pre-paid lease hold land, it represents very good value (80 years remaining on the lease). This penthouse unit is south facing and offers stunning views of the inlet, and the renovated unit features hardwood floors, custom gas fireplace, overheight ceilings, and an open layout living space with updated kitchen. Pet and rental friendly, this is a great place to call home if you enjoy the outdoors and are looking for a more peaceful setting than the hustle and bustle of Lower Lonsdale.
509-3629 Deercrest Drive, North Vancouver
2 Bed / 2 Bath, 1,201 sq/ft / Listed at $789,000 // Learn more here >>
---
The Investor
Piece of mind with this 1-bed/1-bath home in Lower Lonsdale that has no restrictions (rentals allowed, pets allowed). Constructed in 1981, the Encore experienced some major upgrades in 2006/2007 including rainscreen technology, windows/sliders and balconies. This unit has been nicely updated with hardwood flooring and newer stainless steel appliances, and the rare and large outdoor space is a bonus! Great rental opportunity in the LoLo.
112-235 West 4th Street, Lower Lonsdale, North Vancouver
1 Bed / 1 Bath, 622 sq/ft / Listed at $449,000 // Learn more here >>
---
The Cream
Watch the cruise ships leave harbour and go for a stroll on the West Vancouver seawall from this updated unit in West Vancouver's Dundarave neighbourhood. This intimate low-rise concrete building, Argyle Place, offers and open plan layout with tasteful updates throughout; featuring hardwood floors, lie-in-bed views from the Master Bedroom, and an updated kitchen with stainless steel appliances and granite countertops. A fantastic unit for a downsizer or snowbird!
104-2190 Argyle Avenue, Dundarave, West Vancouver
2 Bed / 3 Bath, 1,548 sq/ft / Listed at $3,198,000 // Learn more here >>
---
Listing Offices: 1. Royal LePage Recency / 2. Team 3000 Realty / 3. Royal LePage Sussex / 4. Re/Max Crest Realty Westside / 5. Royal LePage Sussex
---
Interested in any of the apartments above, or needing help in your home search in North or West Vancouver? Contact us via the form below and we'd love to help!
Want to follow along with our Spotlight on the Market posts for the best of the North Vancouver MLS and West Vancouver MLS Listings? Subscribe to our newsletter.
---
Interested in buying an apartment? We'd love to hear from you.