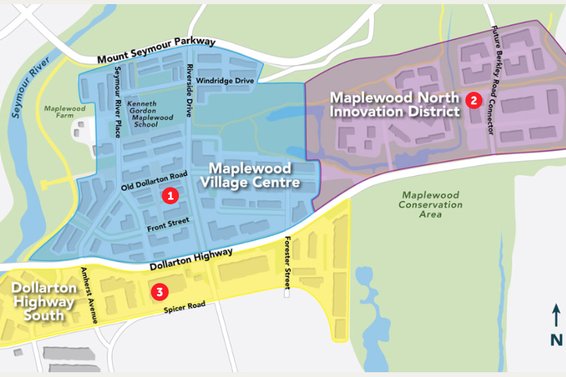 Maplewood neighbourhood plan passes first DNV vote
District of North Vancouver council voted 4-2 to approve the draft Maplewood community plan, bringing their vision for the Maplewood Village Centre one step closer to realization.
Via the District. Maplewood Area Today//
Approximately 1,000 people live in Maplewood today in a mix of older, more affordable rental townhouses and low rise apartments, and a blend of old and new single family homes.
The Plan //
The Maplewood Plan divides the area into three precincts, each with its own unique purpose, character, and identity: 1. Maplewood Village Centre; 2. Maplewood North Innovation District; 3. Dollarton Highway South.
Housing mix
The plan will provide for a diversity of housing types to accommodate all ages, incomes, and family circumstances, including townhouses, co-housing, fee simple row housing, lock-off suites, apartment units, live/work and other innovative forms of housing.
Non-market housing
Non-market housing is encouraged in Maplewood Village Centre as well as in the Innovation District. A minimum of 300 net new non-market housing units are targeted for the Village Centre. A portion of the roughly 900 residential units anticipated in the Innovation District should be comprised of a mix of non-market rental and below-market ownership.
Village Centre
Maplewood has an evolving village heart between Old Dollarton Road and Dollarton Highway, west of Riverside Drive. The plan aims to further enhance the village heart as a vibrant, pedestrian-friendly area with a mix of residential, retail, and community uses.
Community amenities
The Maplewood Village Centre Community Needs Assessment (2017) provides a summary of needed community amenity spaces in Maplewood to serve its growing population.
---
Want to live here? For updates on new developments as announced follow along on our presale page, or subscribe below for our newsletter with exclusive offers and presales opportunities.
---
Source: DNV.org
Via: NSNews.com