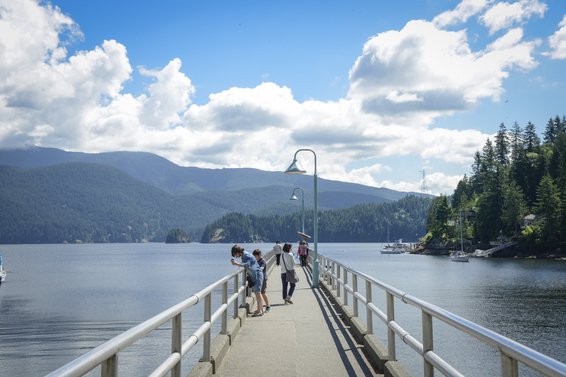 Labour Day Long Weekend in North Vancouver
If you've decided to avoid the highways and stay home this Labour Day Long Weekend, there is plenty to do across the North Shore to keep you busy (despite the rain):
1. Shipyards Kaleidoscope Fetival: Taking place in Lower Lonsdale's Shipyards this 3D Light and Art festival is free to attend; a "non-profit event intended to raise funds for the Lions Gate Hospital Foundation's youth mental health campaign, which is aiming to build a new youth mental health unit in North Vancouver's HOpe Centre that will serve teenagers, ages 13 to 18, faced with mental health and substance use challenges". Premium viewing seating is available via eventbrite. Friday/Saturday/Sunday evenings.
2. North Shore Brewery Crawl: If you haven't visited the many local ale houses across North Vancouver yet, take advantage of the weekend to do so - just ensure you coordinate appropriate transportation. North Vancouver is now home to four microbreweries with open tasting lounges (soon to be 5); Black Kettle Brewing Company, Green Leaf Brewing Co., Bridge Brewing Company and Deep Cove Brewers and Distillers. All easily accessible via transit, a great way to spend some time if the rain comes out.
3. The SummerFest Finale Weekend: This one is a bit weather dependent, but if you haven't had the time to check out the activites over the summer at the Lonsdale Quay then this is your (last) chance. Activities and events will be happening throughout the weekend, including; Saturday September 3rd - Dinner and Outdoor Movie (Southeast Plaza - Ferris Bueller's Day Off); Sunday September 4th - Concert Series (Colin Bullock 1-3pm).
4. Go For a Hike: The leaves are starting to turn, and, should we receive some rain, the rivers should begin to swell; a perfect time to go adventure among the many North Shore trails. If Lynn Valley Headwaters, Deep Cove's Quarry Rock, and Grouse Mountain's Grind are too busy, I highly recommend Brothers Creek Loop in West Vancouver. Wherever your adventure takes you, be bear safe and dress accordingly!
5. The Salmon are Running: It's primetime for saltwater fishing as the salmon begin to make their runs, so if you haven't dropped a line in yet there is no better weekend. If you have boat access Pacific Angler has a great saltwater report here. Boatless? You may get lucky on the Capilano River if some wet weather comes. Make sure if you are fishing that you are properly licensed and are up to date on DFO regulations.
None of these spike your interest - there's always Netflix. Have a great Labor Day Weekend and travel safe!